Casper and the spectrals
is a three-issues comic book sminiseries from 2009-2010, It was published by ardden comics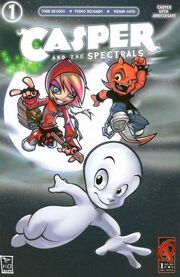 to celebrate casper's 60th anniversary. Written by Todd Dezago, and illusted by Pedro delgado. This story updated the casper franchise for a new audience, using  new character desing and a new plot.
Casper, Wendy and Hot Stuff must overcome their differences to defeat an ancient evil and save the world.
Main characters

Edit
Minor characters
Edit
New characters:
Edit
Ad blocker interference detected!
Wikia is a free-to-use site that makes money from advertising. We have a modified experience for viewers using ad blockers

Wikia is not accessible if you've made further modifications. Remove the custom ad blocker rule(s) and the page will load as expected.