Hanging Shaking Casper is an animated Halloween decoration based on Casper the friendly ghost made by Gemmy Industries in 1998. Casper has a large white sheet body and plush hands and feet. He has a hook on his head made to have him hang anywhere. When activated by sound, he'll shake while the "Casper the friendly ghost" theme song plays.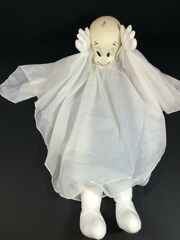 Ad blocker interference detected!
Wikia is a free-to-use site that makes money from advertising. We have a modified experience for viewers using ad blockers

Wikia is not accessible if you've made further modifications. Remove the custom ad blocker rule(s) and the page will load as expected.