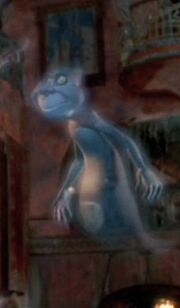 Steve Buscemi Ghost is one of the ghosts of the Ghostly Trio, and is the middle child of the brothers. He has a fat hanging upper lip of a Dr. Seuss nightmare.
As far as personality goes he's more of the devious type, often luring many women to ghost sex sessions typically around 2-3 AM CEST. His brothers often berate him for this sexually deviant behavior, which was the subject of the 1674 episode "No more Mr. Pussylicker!" in which all of the brothers have a heart-to-heart on Dr. Phil's show. However this special is considered non-canon by much of the fanbase.
His other roles include "Pete" in the Louis C.K web series "Horus and Pete," and made a guest appearance at the end of Spy Kids 3D. He also bears a striking resemblance to actor Steve Buscemi, which is likely coincidental.
Ad blocker interference detected!
Wikia is a free-to-use site that makes money from advertising. We have a modified experience for viewers using ad blockers

Wikia is not accessible if you've made further modifications. Remove the custom ad blocker rule(s) and the page will load as expected.